Pediatric Advanced Life Support Course -- PALS
Course Description: The American Heart Association Pediatric Advanced Life Support course is based on science evidence from the 2020/2021 AHA Guidelines for BLS CPR and ECC.
Price
$200 Renewal or $215 First Time Class.
Class length:
5 or more hours
Certificate:
2 year PALS certification card through the American Heart Association (AHA).
Study Material:
Use your own official AHA PALS Book. You can also review on our website for free at www.cprflorida.net/cprreview.html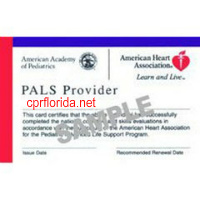 ALL PALS and ACLS Classes: If you can not find one that fits your needs, email us: info@cprflorida.net We will accommodate you at a higher fee!